Today I did something I've never done before. I hosted a trunk show (and it should be noted that I just accidentally typed "truck show" which is also something I've never done). Sales events masquerading as parties have never set well with me. I mean, as a seasoned introvert, I like to do my shopping online. Usually sans pants. And bra. And with a Diet Coke to my left. And free shipping.

However, when jewelry artist Melissa McLawhorn put out an invitation to host a trunk show for her Etsy shop, Salvaged Jewelry, I couldn't resist. Melissa creates jewelry from recycled things that would probably otherwise end up in the landfill. Pages from an algebra book end up as a pendent on a necklace. The plastic covering for florescent light fixtures adorn matchbook covers in a bracelet.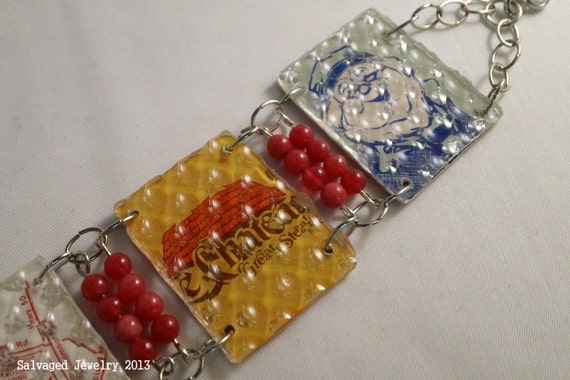 It's all quite brilliant really.
Some friends came by. I made some snacks. We all did a little shopping. It was fun. Melissa gave me an awesome necklace as a thank you gift - it is purple and features resistors on it. Which is quite perfect for me, as I'm constantly picking up resistors in the studio as Kevin works on building gear.
The crafty part of being an artist doesn't come easy for me. Give me a piano and microphone and I'll be right at home on a stage in front of 10,000 people. It's easy, and I love it.
Opening an
Etsy shop
last year? Scared me to death. What if I made something and no one liked it? What if it didn't hold up? Who am I to think that people would actually want to spend money on something I've made?
Then, I realized I needed to do something to support this fabric habit I've developed. I set up shop and waited for magic.
Not much has happened. I've sold a few things. Been burned once by someone not following through on a big order. But mainly, it's just given me encouragement to keep making things. And we all know I'm happiest when I'm making something. The creative process and all.
This year, I'm taking it one step further. My friend Rachael and I are going to do a couple of craft fairs together. The first one is coming up in a couple of weekends, and I have to admit - I'm really nervous. Packaging and presentation are not my strong suits, and I really want our booth to look good - be inviting.
If you are in the area, you can come visit us and bring me Starbucks to calm my nerves. Or just come see us. We will be at the Holiday Sip & Shop hosted by Vend Raleigh on November 15 and then at Sanderson High School's Holly Days on December 8 and 9. And? If no one buys anything I've made? Then I'll at least know that I have the kindest, most generous friends who have put up with the creations I've made their children for the past five years - which isn't such a bad trade off, right?